March 19 - 21, 2023
Hilton Harrisburg
Dauphin County, PA
Known as "CCAP's Legislative Conference," the Spring Conference invites members to Harrisburg to participate in programming of educational and professional value. While in the capital city, members are encouraged to contact their legislator directly and to go to The Hill to represent their county and CCAP. CCAP does not host exhibits at this conference, but vendors are encouraged to attend and to sponsor the Conference.
Save the Date! The 2024 CCAP Spring Conference is scheduled to be held in Harrisburg March 17 - 19!
2023 Conference Materials
All registered attendees have received access instructions to the CCAP Events Mobile App that will serve as a one-stop resource for Conference information including handouts posted from Conference sessions when provided
CCAP Academy Program Credits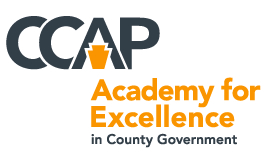 Participants in the CCAP Academy for Excellence in County Government are eligible to receive up to three Academy elective credits for attending one breakout during each educational time slot. Participants must submit a Verification of Attendance Form (PDF), indicating each session attended. Forms must be submitted after the Conference to Lori Lawyer to get transcript credits.
Commitment to Well Being
CCAP considers the safety of all those onsite at the CCAP Spring Conference as our top priority. With that in mind, we are committed to hosting a safe event for all participants, and in partnership with Hilton Harrisburg we will be following best practices designed to mitigate exposure or spread of COVID-19 and other illnesses. However, by choosing to attend the CCAP Spring Conference in-person, attendees are acknowledging that they fully and knowingly understand and accept the risk of exposure to COVID-19 or other illnesses. If you are experiencing any symptoms or other circumstances under current public health guidance, we ask that you respect your colleagues by refraining from attending to avoid the spread of illness.
Cancellation Policy
Cancellations must be submitted via email to Jeannette Hunter no later than 4 p.m. on March 10, 2023 to qualify for a refund. No telephone cancellations will be accepted. A $50 administrative will be deducted for each refund requested. Registration are transferable to another individual prior to the Conference start date. Cancellations received after the March 10 deadline are not refundable. Registered no-shows will be billed. Regardless of initial payment method, all refunds are issued via a CCAP check after the Conference. Please understand we must adhere to the deadlines and policies to ensure accurate registration and hotel planning.
2023 CCAP Spring Conference Sponsor
Thank you to our 2023 CCAP Spring Conference Sponsors!
Conference Program Questions
Vendor and Sponsor Questions