November 21 - 23, 2021
The Hotel Hershey
Dauphin County, PA
The CCAP Fall Conference features general programming with a focus on county "hot topics." This Conference is a time for CCAP to plan its priorities and goals for the coming legislative year with an emphasis on association and county business. CCAP does not host exhibits at this Conference, but vendors are encouraged to attend and to sponsor the Conference.
The 2022 CCAP Fall Conference is scheduled to be held November 20 - 22; registration materials will be available in September 2022.
2021 Conference Materials
All registered attendees received access to the CCAP Events Mobile App. The app will stay active with links to resource and handout materials post Conference.
Conference Evaluation
Please complete the Conference evaluation after attending.
CCAP Academy Program Credits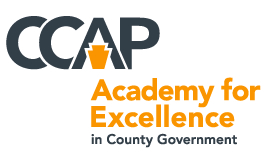 Participants in CCAP's Academy for Excellence in County Government are eligible to receive up to four Academy elective credits for attending one breakout during each educational time slot. Participants must submit a Verification of Attendance form (PDF), which was included in the Conference registration packets, indicating each session attended. Forms must be submitted after the Conference to Mandi Glantz to get transcript credit.
Commitment to Well-Being
CCAP considers the safety of its members, especially in-person Conference attendees, our top priority and we remain committed to hosting a safe event for all participants. The Commitment to Well-Being will require attendees, staff, speakers and vendors to comply with safety precautions and recommendations specified by the Commonwealth of Pennsylvania and the CDC.
Please note: our current policy for CCAP events is for all staff and attendees to be masked and to answer pre-conference screening questions. We will continue to monitor the conditions and recommendations, and will post updates here as well as communicate directly with registered attendees if time-sensitive correspondence is warranted.
2021 Fall Conference Sponsors
Red Ribbon Conference Sponsor
Conference Program Questions
Vendor or Academy Questions