November 18 - 21, 2023
The Hotel Hershey
Dauphin County, PA
The 2023 Newly Elected Officials Workshop will be held Saturday, November 18 - Sunday, November 19. CCAP welcomes all newly elected county officials to this one-and-a-half-day educational program in conjunction with the CCAP Fall Conference. The workshop is intended to provide an overview for all individuals new to county government and serves as an opportunity to connect with other new officials from across the Commonwealth. Participants will attain a better understanding of their roles as a public official, become aware of the county government responsibilities and key issues, and learn about CCAP and its programs and services. Seasoned officials are also welcome to attend as a refresher course. See the agenda below for the days/times of the program. A detailed Newly Elected Officials Workshop Agenda will be available soon!
The 2023 CCAP Fall Conference will be held Sunday, November 19 - Tuesday, November 21. This year's Fall Conference features engaging programming for County Members with a focus on county "hot topics" and is a time for CCAP to plan its priorities and goals for the coming legislative year with an emphasis on association and county business.


as of September 20, 2023
All attendees of the CCAP Newly Elected Officials Workshop and Fall Conference will receive access to the CCAP Events Mobile App that will serve as a one-stop resource for Conference information while on-site, including schedule and program information, a speaker directory, attendee list, sponsor information, and more.
CCAP Academy Program Credits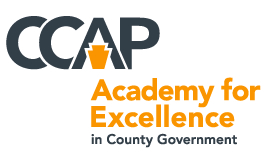 Participants in CCAP's Academy for Excellence in County Government are eligible to receive up to THREE Academy elective credits for attending one breakout during each time slot. To secure your credits complete this online Verification of Attendance Form by no later than Monday, November 27. Your transcript credits will be confirmed via email once processed. For inquiries or assistance, contact Lori Lawyer.
Registration is available for county elected officials and staff, associate vendors, non-associate vendors, state agency personnel, and guests.
NOTE: Registration does not include overnight accommodations. Please see information in the section below to learn more about reserving your overnight hotel room.
Learn more here about what is included or not included with your registration type.
For daily rate registration options, please contact Registrar, Jeannette Hunter.
The deadline to register is

4 p.m. on Monday, November 13.


CANCELLATION POLICY
Please understand that we must adhere to the deadlines and policies below in order to ensure accurate registration and hotel planning. Advance payment of all fees is required prior to the Conference. No badges will be issued until payment in full is received.
All cancellations must be emailed to Registrar, Jeannette Hunter, at jhunter@pacounties.org by Friday, November 10 to qualify for a refund. No telephone cancellations will be accepted. A $50 administrative fee will be deducted from each refund requested by November 10; cancellations received after November 10 are non-refundable.
Registrations are transferable to another individual but must be emailed to Jeannette Hunter by Friday, November 17. Registered no-shows will be billed. Regardless of initial method of payment, all refunds are issued via a CCAP check within 30 days of cancellation.
The Hotel Hershey is located at 100 Hotel Rd, Hershey, PA 17033
We have a discounted group room rate of $199.00 per room per night plus 11% tax available for Sat 11/18, Sun 11/19 and Mon 11/20 through Tuesday October 17, 11:59 p.m. After October 17th, rooms and/or group rate may no longer be available.
BOOK YOUR OVERNIGHT RESERVATIONS ONLINE HERE. (Note: This link will not work in Internet Explorer.)
Guests who prefer to call to make reservations may call 855-729-3108 and ask for the room block for "CCAP Fall Conference" at The Hotel Hershey, November 18-21 2023. The Hotel Hershey Reservations Team is available seven days a week from 8 a.m. - 8 p.m. to assist you.
Credit cards are charged a one night's advance deposit including tax at time of booking a room reservation.
Cancellations must be made 3 days prior to the day of arrival. No changes or cancellations are permitted within 3 days of arrival.
Conference Vendor and Sponsor Opportunities
CCAP's Commitment to Wellbeing
CCAP  considers the safety of all those onsite at the CCAP Newly Elected Officials Workshop and Fall Conference as our top priority. With that in mind, we are committed to hosting a safe event for all participants, and in partnership with The Hotel Hershey we will be following best practices designed to mitigate exposure or spread of COVID-19 and other illnesses. However, by choosing to attend this conference in-person, attendees are acknowledging that they fully and knowingly understand and accept the risk of exposure to COVID-19 or other illnesses. If you are experiencing any symptoms or other circumstances under current public health guidance, we ask that you respect your colleagues by refraining from attending to avoid the spread of illness.
Conference Program Questions
Vendor and Sponsor Questions