September 30, 2022
CCAP Office
Harrisburg, PA
The Solicitors' Conference invites county solicitors to programming directed at their county responsibilities. It also gives solicitors a chance to earn continuing legal education (CLE) credits as required by state law. Vendors are welcome to sponsor this event.
2022 Conference Materials
CCAP Academy Program Credits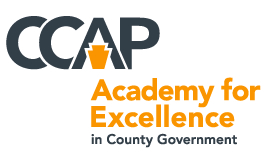 Participants in CCAP's Academy for Excellence in County Government will receive complimentary registration to the CCAP Solicitors' Conference. They are also eligible to receive credit for the Legal Issues required/core course for attending the full day of programming. A Verification of Attendance Form will be provided to attendees and should be returned upon completion of the full day. Full daily attendance is required to receive credit, early departure may result in forfeiture of the credit. Please contact Mandi Glantz with questions or to obtain more information..
CLE Credits
Continuing Legal Education (CEL) credits have been approved for solicitors attending the Conference. A CEL form will be provided at the event for those wishing to obtain credit.
Commitment to Well Being
CCAP considers the safety of its members, especially in-person Conference attendees, our top priority and we remain committed to hosting a safe event for all participants. The Commitment to Well-Being (PDF) will require attendees, staff, speakers and vendors to comply with safety precautions and recommendations specified by the Commonwealth of Pennsylvania and the CDC.
As of March 2, 2022, CCAP Annual Conference attendees and staff are not required to wear a face covering at the Conference. However, CCAP strongly encourages attendees and staff to wear face coverings at the Conference. In no case will disrespect for an individual's choice to wear, or not wear, a face covering be tolerated. We will continue to monitor the conditions and recommendations and will post updates to our website as well as communicate directly with registered attendees if time-sensitive correspondence is warranted.
Conference Registration
Online Registration
Users will be unable to complete registrations if they are using the Internet Explorer web browser. The registration platform has been successfully tested in these compatible browsers: Google Chrome, Mozilla Firefox and Microsoft Edge.
Registration rate includes session materials, breaks and lunch. CCAP Academy Participants attend at no charge.
The deadline to register with CCAP is 4 p.m. on September 23, 2022.
Cancellation Policies
Cancellations must be submitted via email to Jeannette Hunter no later than 4 p.m. on September 23, 2022 to qualify for a refund. No telephone cancellations will be accepted. A $50 administrative fee will be deducted for each refund requested. Registrations are transferable to another individual prior to the Conference start date. Cancellations received after the September 23, 2022 deadline are not refundable. Registered no-shows will be billed. Regardless of initial method of payment, all refunds are issued via CCAP check after the Conference. Please understand we must adhere to the deadlines and policies to ensure accurate registration numbers.
SpringHill Suites by Marriott Harrisburg/Hershey
15 Capital Drive, Harrisburg, PA 17110
CCAP has negotiated a discounted rate of $115 plus tax per night at the SpringHill Suites by Marriott Harrisburg/Hershey, 15 Capital Drive (off Kohn Road), Harrisburg, PA 17110. To make a reservation, please contact Lori Lawyer. Overnight rooms at SpringHill Suites are not included in the registration fees for the Conference.
Activities in Dauphin County
For more information on Dauphin County and the surrounding area, please visit:
2022 CCAP Solicitors' Conference Sponsors
Conference Program Questions
Vendor or Academy Questions